Lost in thought
May 19/11
Today marks 7 months since the day Mum died. Really hard to believe. We still haven't been able to put her house on the market due to the interruptions caused by my cancer. Hopefully one of these days. In the meantime, glad the house is there. Makes it feel like she's still around.
So much on my mind today, decided to take a walk to Withrow Park. Sat on a bench to think for a while. (My new young friend, Cooper, who happened by, snapped the shot).
Trying to keep it together
Really did feel lost in thought. Let's see. What was I thinking about...The Past. - (too much, I know). Those days of youth seemed so happy, carefree, exciting and filled with promise. I've never been good at letting go or dealing with loss. (Had a LOT of loss this past year). And goodbyes? - Fuhgettaboutit! They've always been my WORST thing. In fact, right at this moment, I'm feeling there's not much of ANYTHING I'm good at! (except, maybe whining and kvetching in this blog!)
The Present. - I'm trying harder to live in the moment, because that may be all we have. Right now though, my present is kinda scary.
And The Future? (yikes, I'm starting to sound like Ebenezer Scrooge!), well, that remains a mystery. No one can predict it. (Except, perhaps next week, when the Medical Oncologist will TRY to predict what my odds are!)
When my beloved Uncle Ev passed away this past December, my husband, Sam, made a speech about him at his Celebration of Life, commenting that he admired Ev's ability to always embrace the future (even at 97!) When he was on his deathbed, my sister, Carrie, brought him a ball of wool to hold in his hand. As a diehard knitter, who loved creating new projects, he lay there, tubes coming out of everywhere, rolled the ball of wool in his fingers and whispered to Carrie, "Imagine the possibilities." Even at that moment, he was looking ahead.
For me, it seems one minute I'm on a high and the next, way down. Anything and everything can bring it on.
A friend of mine who survived breast cancer told me months ago the one thing the doctors don't seem to be able to deal with along this journey is the emotional devastation of it all. She was in a much worse situation that I am, but I understand what she means.
My Mother-in-law (who has also seen her share of ups and downs with her health), told me today, in a very upbeat manner, "Things change for you. You have to roll with it!" How is it some people seem to be able to do that so easily?
My old high school pal, Jeffrey Morgan, is another who's been through huge upheaval and survived it all. (Torontonians may remember his father, the late, great newsman, Joe Morgan of CKEY Radio).
As a teen, Jeffrey ran for student council president on a Groucho Marx platform, and won! He's always been brilliantly funny, and a fabulous writer, artist and photographer. (He's even friends with Alice Cooper, has written liner notes for his albums and is going to see him perform at Casino Rama on Friday night!) Alice rules!
Jeffrey has a long-standing theory that loud rock 'n' roll retards the aging process. I think I'm going to start listening to Alice tonight and see if I can work on that. I interviewed Alice several times. One of the most fantastic performers on the planet to speak to in person! On one occasion, I wore a black leather dress and asked him what kind of woman he REALLY likes. I always remembered his answer. "A little bit of leather, a little bit of lace. A little bit of honey, a little bit of rawhide!" Hot stuff that Alice. And I always envied his eyeliner!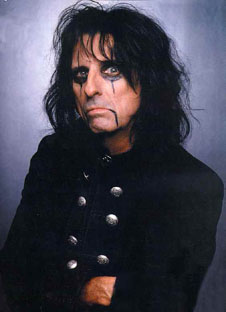 Alice and his fab eyeliner!
You may have seen on the blog a few days back, Jeffrey forwarded me a digitally restored and colour corrected photo he took of me at the 1980 Northern Secondary School reunion. (30 years ago, gak!)
Jeffrey usually likes to remain in the shadows, but last night, he sent me the photo I took of HIM at that reunion (again, updated and colour corrected), and gave me permission to use it. I've always loved the shot because it shows his personality. While the rest of us entered at the door marked for US - (the kids of the '70s), HE chose "the door less taken." Made me laugh. He always had the cutest, cleanest hair in the whole school!
Jeffrey going his own way
In typical Jeffrey fashion, he asked me to pass along this following message.
"Please let your faithful readers know that I have more than lived up to my long-haired, denim-clad youth by becoming Canada's most accomplished rock critic, as evidenced by my website which can be read here":
JeffreyMorgan.info
Thanks Jeffrey! You've managed to lift my spirits for another day.
Labels: Alice Cooper, Carrie, Jeffrey Morgan, Joe Morgan, Mum, Northern Secondary, Sam, Uncle Ev