Friday the 13th
May 11/11
This Friday's all-important appointment to see my surgeon, Dr. David McCready, has been moved up from 11:30 a.m. to 9 a.m. at Princess Margaret Hospital. (So, I'll be learning the pathology report results two and a half hours sooner!)
During my initial consult with Dr. McCready back in March, he told me we would meet again two weeks following my surgery to "map out a treatment plan." That plan all hinges on what the results have to say. Best case scenario - (which I'm hoping for and thinking positively about) – is clean margins, no spread and no lymph node involvement. After that, it's on to radiation - or whatever else the Doc has up his sleeve.
And why SHOULDN'T it be good news? So WHAT if it's going to be delivered to me on Friday the 13th? That's always been my LUCKY day. If you've read this blog, you already know about the infamous and sneaky Silver sisters.
I met Franelle, Joanne and Valerie Silver back on Friday March the 13th, 1970, (yep, – while waiting at the Toronto airport to greet our teen idol, Bobby Sherman who was coming to town for a concert).

Peace & Love Babe!
I didn't know it then, but meeting the Silvers turned out to be one of the best and luckiest days of my life! There's no way even to CONTEMPLATE what my life would have been like without them. Thinking back, several of my boyfriends back then would never have had a date with me, if not for Franelle & Joanne, "covering" for me, (in case my Mum, or anyone else who wanted to interfere, called, looking for me!) – They always had a "line" ready to explain where I was! Bobby brought us all together, and the shenanigans we got up to over the years – truly unbelievable.
The first time I ever flew to Hollywood (my big dream at the time), was with Franelle and Joanne when I was 17. (As Sinatra sings, "It was a very good year"). My Mother was a nervous wreck, considering Hollywood was "sin city" in her mind.
Here's how we looked on the day we travelled to York Mills subway station to catch a bus to the airport and then take off for a couple of weeks in L.A. (after saving money for a year, from low-paying jobs, or (in MY case), a part-time job, to get there). The trip "cemented" our friendship, as you'll see.
Me, Joanne & Franelle – fresh-faced kids off to L.A. (1973)
We had such a blast, visiting Grauman's Chinese Theatre to put our feet in the movie star's (CEMENT – get it?) footprints, going to TV tapings, looking for celebs, and staying in what we THOUGHT was a fabulous place called the Hollywood-Vine Motel, (it turned out to be a fleabag joint on the strip), but we loved every minute of it!
Our room at the Hollywood-Vine – (not exactly The Ritz!)
Franelle looks at "the view" from our 2nd floor room
Franelle & Joanne with famous footprints at Grauman's
----------------------------------------------------------------------------------
Franelle had big ambitions of becoming a TV comedy writer (and she later DID, winning an Emmy for her work on The Carol Burnett Show!) We'd been corresponding with a famous TV writer, Robert C. Dennis who scripted more than 500 episodes of shows like The Mod Squad, Dragnet, Emergency, The FBI, Kojak, Starsky and Hutch and so many others. Strangely, "Robert C," had been born in Courtright, Ontario, but ended up in California! He invited us to drop by his Hollywood Hills home to talk about the writing biz. We saw stacks and stacks of his scripts, (he even GAVE us a few copies!), and we had such an exciting time visiting with him and his wife. He was very encouraging to Franelle about her goals. Sadly, Robert C. passed away of cancer in 1983. We have never forgotten him.
Me, Joanne and Franelle meet writer Robert C. Dennis
When Franelle and Joanne moved away to live in L.A., I was afraid I wouldn't be able to see them much anymore, but fate intervened and I was unexpectedly hired by Global TV as an entertainment reporter. Little did I know I'd soon be flying to Hollywood for movie junket interviews about once a month, so we were able to get together all the time. Valerie remained in Toronto (like me), so we would all hook up together whenever Franelle or Joanne would fly back home.
Valerie, Franelle & Joanne Silver with Joanne's son, Andrew Kirschbaum
The Silver sisters have remained my closest pals for 40 years and their friendship has meant the world to me. Even now, so far away, they've been completely and whole-heartedly involved in my current predicament, supporting me in more ways than I can even write about in this blog! (some of you may understand what I mean). So why SHOULDN'T I believe that EVERY Friday the 13th will forever and always be my lucky day?
Oh, and on top of all this, in later years, my son Max and I started watching Friday the 13th movies together. Winning! As a lifelong horror movie fanatic, I was thrilled to discover HE loved them as much as me! We've shared a ton of fun, screams and laughter ever since, over the scary antics of Jason Voorhees.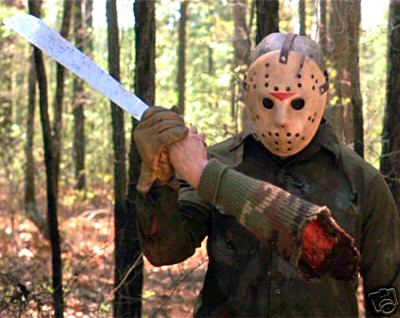 Jason comes calling! – Friday the 13th
So, bring it on Dr. McCready! See you at 9 a.m. - on Friday - (the 13th).
Labels: Bobby Sherman, Dr. David McCready, Franelle, Friday the 13, Joanne, MRI results, Valerie