Starstruck
March 29/11
From the time I was seven years old, I was in love with TV stars.
As a kid, I always wanted to look exactly like Connie Stevens,
or Sandra Dee,
or, (if you can believe it), like "Marina" (the puppet), from the supermarionation show, Stingray!
Stingray - Marina's theme - (I couldn't get enough of this pretty, but sappy song). I never even realized till years later that the face of puppet "Captain Troy Tempest" was modeled on James Garner, even though he looked exactly like him! Guess I was too busy studying Marina's exotic makeup so I could copy it!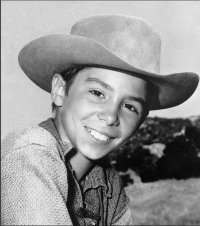 I was just crazy about Johnny Crawford, ("Mark McCain") of Rifleman,
Bill Bixby, on left, ("Tim O'Hara") /My Favorite Martian,

Don Grady, ("Robbie Douglas") /My Three Sons

and Roger Moore ("Simon Templar") /The Saint.



Hey, hey, they're the Monkees!
Later, as a teen, The Monkees stole my heart, (especially Mickey), and I couldn't get enough of Bobby Sherman, ("Jeremy Bolt")/Here Come the Brides (sigh). I watched more TV than any kid I knew. It should have come as no surprise that I wanted to enter the field of entertainment reporting and meet the stars. Over 30 years, I've interviewed thousands of celebs. Anyone and everyone from the world of television, film, theatre and music. What a blast. I was always professional, but never tried to hide my enthusiasm when meeting my faves. Afterwards, stars often told me it was a pleasure to be interviewed by someone who knew so much about them and was actually a fan. That love of celebrities has never left me to this day.
Bobby Sherman was my ultimate teen idol!
Years later, as a very young radio reporter, I got to meet and interview Bobby. (and yes, I'll admit at age 22, I wasn't as professional as I might have been!) I also interviewed him again several times during the years at Global Television.
While at Global, I had the opportunity to interview Davy Jones & Mickey Dolenz of The Monkees! (if someone had told me as a teen I'd be sitting down and talking with my idols, I never would have believed it).
Even now, as I think about what lies ahead on this journey into the world of cancer, I find I'm inspired by many stars.

Robin Williams, (here showing off his surgical scar following heart surgery in 2009).



In 2007, Regis Philbin underwent heart bypass surgery.



David Letterman came through emergency quintuple bypass surgery in 2000.
I admire David Letterman, Robin Williams and Regis Philbin, all fabulous entertainers, who were brave enough to

go very public with news of their heart surgeries. They inspire me with their courage and

also because they found ways to use humour to plow through their challenges and help others face the

same issues. Letterman has become part of my coping mechanism after the cancer diagnosis. He's

hysterically funny and honest with his feelings and comments and there's just something so calming about him for me. He's always there, ready to talk and make you laugh.

Robin Williams - Never a dull moment!
As for Robin Williams, he's the all-time best interview ever! I don't think he could give a bad one if he tried. Again, funny and honest. One time on a junket in Los Angeles, I was talking to him about Patch Adams, in which he played a doctor who uses comedy to try and make people feel better. I asked if he truly believes laughter is the best medicine. His answer surprised me.
He started off by saying, "Yes, I basically do believe that theory, but there are limitations." He went on to talk about his dear friend, the late Christopher Reeve, and how he would visit him after the riding accident which left him paralyzed, and do everything he could to lift his spirits. Robin became quite emotional as he explained that even he had trouble believing laughter could help when Chris was in so much pain. I've never forgotten that, and recall departing the hotel room interview set, walking down the hall into a stairwell exit and crying. Robin usually leaves you doubled over in guffaws, but not on that day.
I often find just thinking about a star like Christina Applegate, (who had a double mastectomy), makes me feel, if she can do THAT, then I can do THIS.
Jaclyn Smith, Olivia Newton-John, Sheryl Crow, Melissa Etheridge, Suzanne Somers all faced their fears and came out winners.
Here in my own hometown of Toronto, Dr. Marla Shapiro, Beverly Thomson, (CTV) Wendy Mesley (CBC) and Cynthia Mulligan (CityNews) are just a few of the incredible women who have made this journey. I only hope I can conjure up the kind of courage that they were able to find within themselves.
Labels: Bill Bixby, Breast cancer, Christina Applegate, Connie Stevens, Cynthia Mulligan, David Letterman, Don Grady, Johnny Crawford, Regis Philbin, Robin Williams, Roger Moore, Sandra Dee, The Monkees