Juliette Lewis & a cast of characters
January 18/12.
All my life, I've found it fascinating talking to celebs - movie & TV stars, directors, producers, writers, singers, composers, you name it. They all have such special talents and to learn how they put those talents to use and entertain us is something I never tire of hearing.
Robin Williams with me during our interview for Hook, (1991)
Robin Williams was ALWAYS my favourite. I don't think he could give a bad interview if he TRIED. During the several times I spoke with him one-on-one over the years, he managed to throw me into fits of laughter (when he told me what to expect in terms of pain in the labour room when giving birth to my first baby - warning me to, "Stockpile your medication NOW!", to tears, when he spoke of the horrifying frustration of trying to boost the spirits of his close friend, Christopher Reeve following his devastating riding accident, and had me in both laughter AND tears as he tried to put into words, the perils of fatherhood. The man is simply a genius. I wish I could talk to him every day.
The late Dudley Moore was another man who made every interview special. This shot was taken during my radio days. (Probably around 1978). His comic brilliance and musical talents were legendary but another of his true talents was to make people feel comfortable in his presence. I remember the day I was asked to write and put together his obit in 2002. Everyone at Global said I had to be the one to do it, since I was such a fan.
While writing it, I recall thinking, despite the humour and immense kindness, there was such a sadness to him. It could zap your soul when he looked into your eyes.
And don't even get me STARTED on Jack Lemmon! (1925-2001). Fell in love with him while watching The April Fools opposite Catherine Deneuve (1969) and loved him the rest of my life. This pic was taken when he was in Toronto promoting Tribute (1979).
Years later, after I finally saw him co-star with Marilyn Monroe (and Tony Curtis) in Some Like It Hot, things got even worse!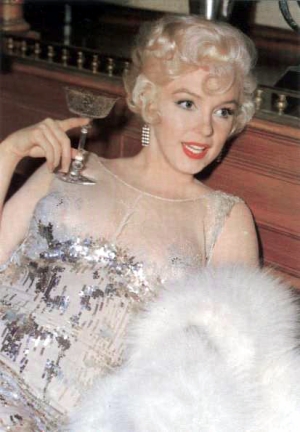 I wanted to dress like Marilyn,
Tried to, so I could win Jack's heart! Didn't exactly work out that way. LOL. (me, circa 1979 in Vegas)
Though I did get to spend some time with him over the years! This shot was taken on board a ship during the junket for Out to Sea (1997) - the last time I met him in person. (Though he died nearly a decade ago, I still think he's the world's greatest actor).
At any rate, last night, my friend, Pam Pickard and I went to see actress Juliette Lewis at the TIFF Lightbox Theatre for her "In Conversation With" show. She was interviewed by Artistic Director Noah Cowan all about her eclectic career.
From our front row seat, she looked fabulous! Her hair was red and she was decked out in black leather pants, low cut white shirt, black leather jacket, high heeled black shoes and silver jewellery.
As soon as she began to talk, she told us, "I didn't get enough sleep tonight. Makes me lose my adjectives. I'm going to be extra-unhinged."
She told the audience all about making Cape Fear with director Martin Scorsese and starring Robert De Niro. (1991) She was just 18. When it came time to shoot the De Niro kiss scene, man, what a story! She's told it before, but I had never heard it.
"I was all instincts and intuition. Scorsese encouraged me to trust myself. I didn't know what De Niro was going to do. He taught me about professionalism".
Lewis says the scene was supposed to involve De Niro walking over and kissing her, but that Scorsese hinted "Bobby" was going to do something else beforehand. She had no idea what it would be. Turned out, he was going to stick his thumb in her mouth. She went with it and the rest is history. According to Lewis, Scorsese used the first take. Wow.
She later talked about her performance in Natural Born Killers opposite Woody Harrelson - (1994). After we watched the extremely violent Rodney Dangerfield murder scene,
Juliette explained (director), "Oliver Stone did not put any constraints on us." She went on to say if the actors don't do things quite right, "He'll bust your chops in front of the entire set!" The actress got so involved in her description of the scene that she turned to us and quipped, "Now do you see why I don't do drugs?"
Lewis was most passionate when talking about her music career. (first with The Licks and then with her new band and the release of their CD, Terra Incognita). The video was directed by her brother, Lightfield Lewis.
"I'm working on a documentary of my concerts, touring, musicians, audiences. This has been a radical journey and I'm in a weird place of transition right now. The live show medium was always in my blood. The exchange of energy is unbelievable. I miss it so much. I can't wait to get back to it. My break from the TV show (The Firm) is in May."
Juliette with co-star Callum Keith Rennie in The Firm.
I even got the chance to ask Juliette a question on mic from the audience. Told her I'd recently had the opportunity to transcribe an interview with Canadian actress
Helen Shaver who is a co-producer on The Firm and also directing some of the episodes. I asked what it's like being directed by a woman who once played her mother in a small independent film called That Night (1992). Juliette laughed and explained it's been very enjoyable. She loved the experience working with her in that film when she was just 19 and finds it amazing that careers can sometimes change dramatically and an actress can work her way up to directing and producing. Juliette also commented she has no interest in directing, but can't wait to get back to her music.
My favourite part of the interview was when an audience member asked about the risks she takes in life. She responded, "As I'm aging, what I'm holding on to fervently (laughs), feverishly, is, anytime I'm sitting too long and start to get whiney, I have to start generating these opportunities. I get safe and I want things to be cushy, but I try to be open to what the universe opens up to me,
(like Shit Girls Say - above) - being a part of something interesting. Auditioning is really tough for me. It's a real head trip - you're not in a safe place. I'm always chasing the experience."
One more thing. When asked about the cold Toronto weather, she joked, "I LOVE this city, but I'm a wimpy California sunflower!"
Great to "meet" you Juliette!
Labels: Callum Keith Rennie, Dudley Moore, Helen Shaver, Jack Lemmon, Juliette Lewis, Martin Scorsese, Oliver Stone, Pam Pickard, Robert De Niro, Robin Williams, The Firm